Coordinator
Sabina Feldmanová, MSc
Study Abroad Programme Manager

Sabina is a London School of Economics alumna, completing her Master's degree in International Employment Relations and Human Resource Management in 2012. Sabina first got a hint of the British university system during her bachelor degree studies at the Charles University in Prague as she got the chance to spend a semester at the University of Derby as part of the Erasmus programme. Sabina has collected plenty of work experience in the field of HR, hiring fresh graduates for international corporations such as Microsoft. Sabina has been forming an invaluable part of Czech-us since 2014.

Sabina will help you with your applications for bachelor and master courses in England and Holland, and will advise you on your future employability options.
About Czech-us
Czech-us, v.o.s. was established in 2006, having received a business license to administer work placements from the Ministry of Labour and Social Affairs of the Czech Republic. Although Czech-us was only established in 2006, it had started helping young students to obtain visas to work as lifeguards in the USA three years earlier, on the basis of a trading license. In 2014, Czech-us v.o.s. became a travel agency. The growing popularity of our programmes allowed us to establish new, specialised companies, that is Czech-us Work and Travel, Czech-us Study Abroad, and Czech-us Work Abroad.
Back in 2006, the growing number of content clients helped us trigger an expansion that continues to this day. At the moment, Czech-us arranges work placements and internships in the majority of western countries and even in some of the more exotic destinations. We are currently more and more focused on language courses, summer schools and study abroad programmes at universities in Denmark, the Netherlands and Great Britain. We consider these countries to be the very best in terms of their education systems which is also confirmed by our clients.
Our everyday jobs is our mission, too. We aspire to help young people set off for abroad, help them experience life to the fullest and get to know new cultures and mentalities. It is also for the pieces of experience from abroad that make our clients successful in life which makes us see that what we do makes sense and that is has a deeper meaning. In order to motivate young people to study and work abroad, we also started to issue the BRAINSTORM magazine back in 2014 which is distributed to Czech secondary schools five times a year.

Our motto is:
Openness
Communicativeness
Reliability
Individual approach to every client
Focus on the quality of provided services
Every single one of us has personal experience with the programmes we run. We have personally tasted the American burgers, ridden the British double deckers, hiked the New Zealand mountains, put on the Dutch wooden shoes, and lived the Australian no shoes, no worries. We derive from our own experience and information from our past clients in order to achieve satisfaction from the side of our potential clients interested in our services.
Not interested in Holland?
Czech-us Studium v zahranici, s. r. o.
Registered seat address: Vodickova 730/9, 110 00 Prague, Czech Republic
Office address: Vodickova 730/41, 110 00 Prague, Czech Republic
VAT number: CZ 2419386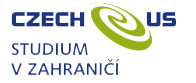 Czech Koruna international bank account number (IBAN): CZ0220100000002800518093
Euro IBAN: CZ1020100000002200526292
Pound Sterling IBAN: CZ9120100000002201018564
All bank accounts are registered at the Fio Banka, a.s.